A couple of weeks ago, author Rachel Harris challenged the members of her Flirt Squad to get healthy. This isn't about losing weight or dieting, or trying to fit some kind of arbitrary beauty standard, but about eating healthy foods and exercising, so we can feel good about ourselves. I promised to share some of my favorite healthy
recipes
with the group, so I've decided to share them with you as well.
Summertime is the best time for fresh produce and delicious, light meals. And if you don't have to heat up your house by turning on the oven, all the better, right? When the weather is warm and we want something fresh and flavorful, without cooking something elaborate, we really enjoy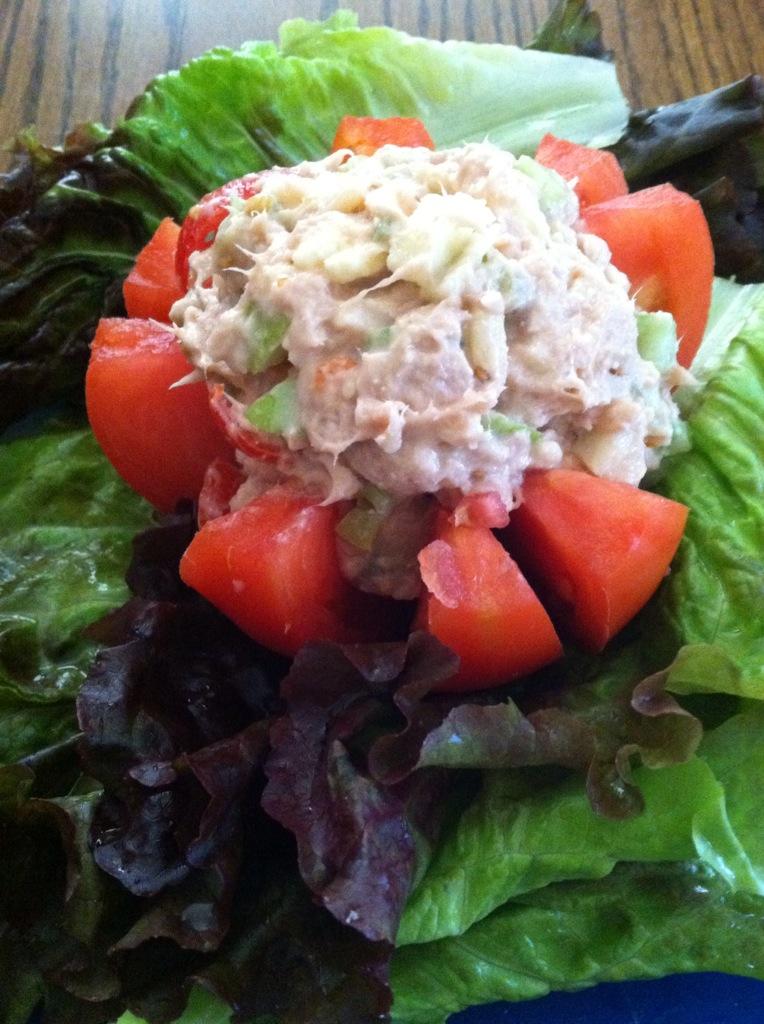 This is a super-simple, healthy meal that is especially delicious this time of year, when garden-fresh tomatoes are plentiful. And it's easy to adapt to whatever ingredients you have on hand, so there's no need for an extra trip to the grocery store.
You will need:
1 head leaf lettuce (I like to use red leaf lettuce or romaine, but you can use whatever you have on hand. Or skip this ingredient if you don't have lettuce handy.)
6 large tomatoes
2 cans tuna fish (or diced chicken breast)
1-3 Tbsp. Miracle Whip, to taste (or mayonnaise, or plain yogurt)
1-2 tsp. mustard
1 c. chopped veggies/fruits (In the salad pictured above, I used celery, green apple, tomatoes, and green olives - other favorites include Craisins, grapes, onion, carrots, cucumbers, and zucchini.)
1/4 c. chopped nuts or seeds (This time, I used pine nuts. We also enjoy walnuts, pecans, or sunflower seeds sometimes.)
1/2 c. diced cheese (whatever flavor you prefer - I usually just use whatever I happen to have in the fridge)
In a medium-sized bowl, stir together tuna fish (I don't bother to drain mine. This way, I can use less Miracle Whip without having a dry tuna salad.), Miracle Whip, mustard, chopped veggies, nuts, and cheese.
Line 6 plates with lettuce leaves.
Cut each tomato into wedges, being careful not to cut all the way through, so the wedges are still connected.
Place a tomato into the center of each lettuce-lined plate and fan the wedges out to leave an open space in the center.
Divide tuna salad evenly between the tomatoes. Serve. (Prepare to have even your pickiest eaters asking for second helpings.)